Millions of students rely on school-provided food as their primary source of nutrition. Recent Assembly Bills in California outline advancements to ensure these meals provide a chance for the dietary habits and choices that begin in childhood to be healthful, sustainable ones. Last summer, Gov. Newsom approved a bill allotting $100 million toward plant-based foods for schools, plus $600 million to upgrade the infrastructure of school kitchens and train and pay food service workers to prepare these meals. It totaled a $700 million investment toward expanding plant-based, California-grown and other options.
"School meals are a crucial point of leverage to instill healthy eating habits at a young age and combat diet-related disease," the Morning Ag Clips reported. Over a hundred school districts, nonprofits and grower associations formed a coalition and signed a joint letter "asking the United States Department of Agriculture (USDA) Food & Nutrition Service (FNS) to align with the 2020-2025 Dietary Guidelines for Americans via updating K-12 meal requirements that create barriers to serving more pulses [beans, peas, lentils and chickpeas] in school meals." This coalition asked for updated guidelines to allow beans, peas, lentils, tofu, and soy products to qualify as "meat" or "meat alternatives," to "diversify protein options."
In July of last year, I first reported on the forthcoming availability of the $100 million investment in plant-school meal schools. GT readers who wrote in the previous article's comments expressed hopeful anticipation over California becoming the first state to support plant-based meals in schools.
But then things stalled—and changed.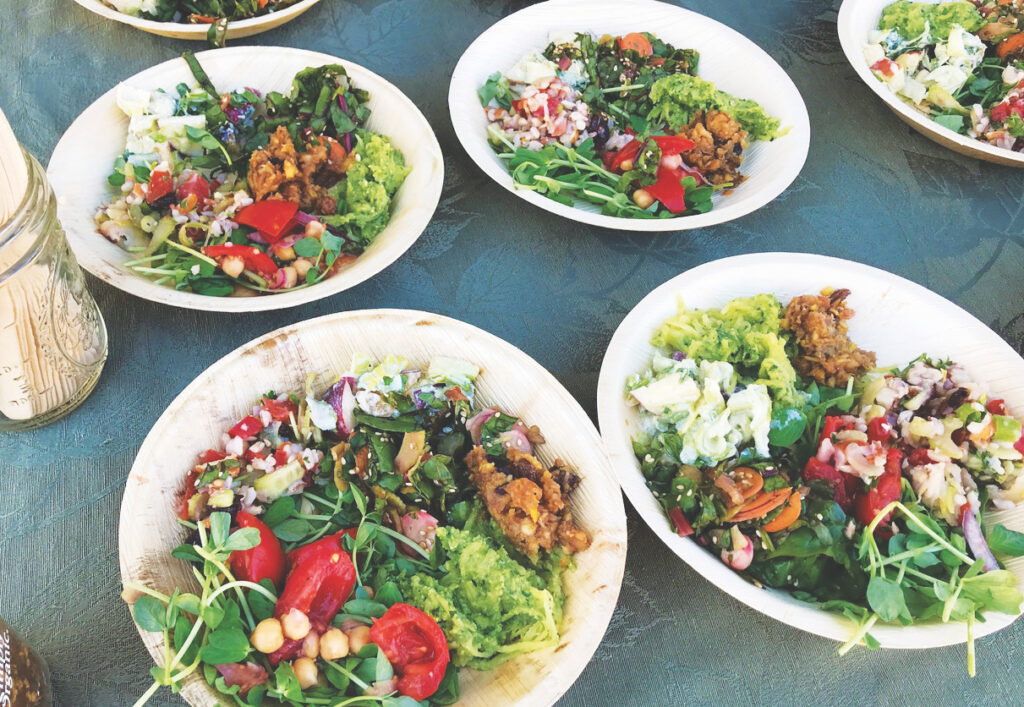 MYSTERIOUS FRUITS
"The impetus for this money was a bill that was initially 100% for plant-based meals," says Beth Love, Executive Director of Eat for the Earth. "[The bill] was gradually diluted through the political process until the point where we are now when it seems that increasing plant-based meals is just one of many options for the money."

Eat for the Earth—a Santa Cruz Gives participant—has raised tens of thousands of dollars to help fund programs such as Community Rx, a diet, health and education program in partnership with local healthcare providers at Salud Para La Gente in Watsonville. The emphasis of the investment is on "plant-based, but also sustainably produced foods, food from California and for students with religious and other restrictive diets," Love says. Love most wants to reach those "marginalized when it comes to healthy nutrition information."
Regarding food and diet policy, she reminds us that adding options is not equivalent to taking anything away. "People say, 'the government isn't going to tell me what to eat,'" Love says. "People are attached to their food and their choice. I have never heard any policy suggestion to legislate that people can't have what they want." Contrary to specific arguments, vegans are not looking to criminalize cheeseburgers. They just might be stoked that there are more options "Beyond"—especially for kids.
Now, at the end of "Veganuary," the month the vegan-curious tries more plant-centered meals, where in the pipeline are the funds? When will kids likely see an increase in local, healthful and plant-based school-food options? Amy Hedrick-Farr, Food Services Director at Santa Cruz City Schools, said, "Sometimes we get behind a bill and are passionate about it, and nothing happens, or you don't know what happens because it takes so long."
"We saw a big gap between student demand" for plant-based meals "and supply," says Chloe Waterman, environmental nonprofit Friends of the Earth's senior program manager for their Climate-Friendly Food Program. The original bill, AB 479, introduced by former Representative Adrin Nazarian in 2019—Friends of the Earth was among the sponsors—stated that schools could receive grants reimbursing a portion of costs for plant-based meals. AB 479 would have created the "California School Plant-Based Food and Beverage Program" to provide grants for school districts to add plant-based food and milk options to meals. AB 479 set up the vision for the program but didn't pass. What ultimately did pass, Waterman explains, was a different bill, AB 558, "The Child Nutrition Act of 2022."
"It didn't make sense to pass two similar but slightly different programs," Waterman says. Remains of the "California Plant-Based Food and Beverage Program" were folded into "The Child Nutrition Act of 2022," which removed language about providing plant-based school meal options to "nutritionally adequate" ones.
Waterman alludes to "The big-ag interest in California," the California Cattlemen's Association, that lobbied against the bill to not use language surrounding and linking climate change to diet. They dropped the "climate" but "reneged and opposed the bill in the most recent legislative session." "They didn't want to frame it as a climate initiative," Waterman says, "only expanding options for students," which she calls "a worthy goal in and of itself."
AB 558 still gives districts the option to receive "reimbursement of up to $0.20 per meal for meals that include a plant-based or restricted diet food option … or up to $0.10 per meal for meals that include a plant-based milk option" or both. It also allows for "grants of up to $100,000 to local educational agencies for additional purposes relating to the program."
"Even a reimbursement of 10 cents per meal can make a big difference in the budget," Waterman says. "This worked well for the local food movement; let's mirror that for the plant-based school food movement."
Nora Stewart, Friends of the Earth's manager of the California Climate-Friendly School Food Program, adds that they are working with 60 districts around California to expand plant-based and organic menu offerings. "Districts are aware, and there's momentum for the use of these funds." Districts need to opt-in for the funds, but the ones that do so are eligible to receive them.
Kiearan Kelly, the Deputy Chief of Staff in Supervisor Zach Friend's office, wrote the board item supporting AB 558. "The state budget adopted in June 2022 includes $600 million over three years for school kitchen infrastructure upgrades and equipment and employee training related to serving school meals using fresher, minimally processed California-grown foods," Kelly told GT via email. "The budget also included $100 million in one-time funding to help school districts procure California-grown or California-produced, sustainably grown, whole or minimally processed foods for school meals."
Kelly also recognized that since Gov. Newsom signed the bill into law last September, its contents have substantially changed. The bill now centrally emphasizes a requirement that the California Department of Education "provides guidance to school districts" on how they might be able to offer meals to non-enrolled children, such as siblings of students who qualify for the free and reduced-price lunch program.
NOT JUST FOOD
Love, Waterman and Stewart highlight the social justice stakes of providing plant-based school meal options. These meals' availability transcends being for vegans or those reducing animal-product consumption for health reasons.
It's "a food justice issue," Love says. "Dairy purchases are going down, but dairy production is not because it's so subsidized." The heavily subsidized dairy industry having a part in the dairy requirement of the nutrition guidelines is not, Love points out, in the interests of food justice, referencing the higher instances of lactose intolerance in BIPOC and Latinx populations. It's obvious how many of the vegetarian entrees on local school menus are cheese-heavy: bean and cheese burritos, cheesy pull-a-parts (which are what?), cheese pizza, grilled cheese sandwiches and so forth.
"The milk requirement is one of the most unjust related to school meals programs," Waterman says. "It has terrible consequences for health disparities for BIPOC students and the environment. Lactose-normal is what most people know as lactose intolerance. It's harming BIPOC students who rely on school meals."
The dairy industry's political power is ensuring that what shows up on the menus for kids reliant on school meals is as much a result of "lobbying by the dairy industry as it is what's healthy for kids to eat. Right now, the only way a school can be required to provide an alternative is a doctor's note for a student. The history of milk is inextricably linked to the history of colonization in this country. The fact that dairy milk is one of the required components is part of the legacy of colonization and racism persisting today."
Cheese is "made available to schools at an extremely cheap rate," Waterman says. "We are significantly overproducing dairy," she adds. "Subsidies create the wrong incentives," leading to a dairy crisis. "Dairy farmers are going out of business, but subsidies incentivize them doing more rather than supply management like Canada does."
A government cheese surplus following World War II was funneled into schools. "That idea of schools being a dumping ground for the food we are producing too much of has carried through," Waterman says. "One school district told me they're 'drowning in cheese.' It's why you get cheese-heavy entrees. For a dairy producer, cheese takes a lot of milk to produce. It's a good use of milk from their perspective."
Beth Love also observes how those "vaults of surplus cheese and products used in subsidized programs" are given to the populations with higher rates of lactose intolerance, as well as the matter of economics. "For so many families in our community who are packing lunches, it might be more economical to take advantage of the school lunch program, but they can't," Love says. "I don't want to imply there aren't plant-based options, but it should be a right for any student who wants to eat plant-based to have comprehensive choices to meet their needs."
SCCS Food Services Director Hedrick-Farr acknowledges that "we tend to be cheese-heavy around here," a shift toward "plant-forward" is indeed underway.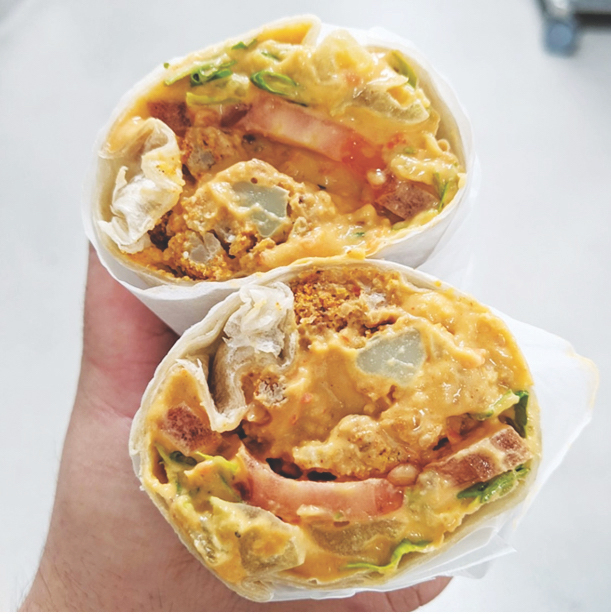 PLANT-FORWARD MOTION
Nesh Dhillon, Executive Director of Santa Cruz Community Farmers Markets, assures that there isn't much information on progress and momentum yet because it's still brand new.
"It's all happening right now," he says. Dhillon and the Farmers Markets are working on the issue in "little slices and dices" along the way, with the Live Oak school district as a pilot program. "There's always been a discussion on how we get fresher foods, scratch cooking, fresher produce and local produce in school meals, considering we're in a farm belt," he says. "People have worked on different parts of this over the years. There's bureaucracy within school systems. They have to be as cost-effective as possible, as their funding is always under pressure. There's fear— 'will this work?' You don't want to adopt a new system and have it fall apart when it comes to children." Hence some risk-averseness on the administrative side.
Dhillon believes that with the additional funding from the state, school districts can "take baby steps in this direction." He points to "model programs" such as Davenport's Pacific Elementary, where food is grown in "an amazing garden right above Whale City Bakery." Students learn to cook and prepare healthy meals. "It's a vertically integrated curriculum; kids are eating truly healthy food, but it's a small, somewhat privately funded program. Is it scalable? It takes manpower and money."
It benefits the growers as well. In the Live Oak school district, Dhillon says, "We're in our fourth week of distribution" of fresh produce from the Sunday Live Oak Market. Vendor Billy Bob Orchards out of Watsonville is "moving a product they have an abundance of—20 bins of fuji apples a week."
It's been refreshingly simple: At the end of the market, they drive three blocks to the school and move products into their cooler, then Del Mar school students get apples and pomegranates in their meals.
"So far, it's great," Dhillon says. The funding comes from a grant they received that's affiliated with some of the Assembly Bills that passed. As more funding comes through, "the more we can scale up and provide a direct link to local ag and through the farmers markets" to provide all-California-based foods, which Dhillon calls a win for everyone. Children will stop being "weaned on sugar, salt and high fat," which, like a drug, they then "can't get enough of," Dhillon says. "They get hooked on this stuff and don't quit."
From an economic standpoint, "why wouldn't we expand opportunities for local producers?" Dhillon says. "Institutional buyers of local produce have a short carbon footprint. Everything's right here; you're vertically integrating and helping to create a stronger food system. If you want to support the essence of what it's all about, you've got to know and buy from your growers as best as you can. Farming communities are everywhere. If you can do it, do it."
Dhillon's perspective speaks to the true beating heart of this story: the importance of health and learning to make healthy choices from a young age—and our responsibility to provide for them.
In February or March, the California Department of Education will release criteria for the $100 million to support locally sourced, minimally processed, sustainably grown and freshly prepared meals that can include plant-based or restricted diet options. School districts, county offices of education and charter schools can opt-in to receive funds.
The demand for them is present. SCCS' Hedrick-Farr says, "we are interested, have signed up and are doing a lot of new things to incorporate scratch-cooking and plant-forward options," including hiring a cook/baker and taste-testing. "You can't get away from chicken tenders and pizza Friday, especially at the elementary level," she says, "but we honor our California Thursdays and scratch-cook every Tuesday and Thursday." A recent Santa Cruz High offering was a green salad with avocado, cucumber and quinoa—along with a QR code for student feedback.
"Lots of districts wanted to provide more taste-testing activities for students," Stewart of Friends of the Earth says. "We received an incredible response, a huge influx of school districts wanting [small grants that were available.] We now have a pot of $100 million available to districts that could be used to expand more plant-based offerings."
To help spread the word locally, Beth Love and Eat for the Earth have been seeking leadership for "an advocacy committee to educate school districts about this additional funding," Love says, and to create "support for our local children" to reap the benefits. So far, they have eight volunteers and the capacity to reach out to five or more school districts and are starting communications with school district personnel. "We've filled out all the forms and are just waiting on the state," Hedrick-Farr adds. "Kids are asking for it," she says, "and we need to follow that too. School food has really changed, and we are trying to do amazing things."